Northern Initiatives helps jumpstart new businesses
Startup businesses start up with an automatic strike against them — they're startup businesses. Most banks won't make a small business loan without two years' worth of financial information and, of course, a startup business has … none.
Northern Initiatives, a nonprofit lender working throughout Michigan, likes startups. Since its founding 30 years ago, a third of the loans made have been to startup businesses. And, because Northern Initiatives supports its customers with education and coaching, those startups often grow up to be thriving small businesses, supporting families and building wealth. In many communities in Michigan, there's a Northern Initiatives customer on every block.
In keeping with its mission as a Community Development Financial Institution (CDFI), Northern Initiatives provides loans to small business owners and aspiring entrepreneurs who might not qualify for a small business loan from traditional banks for various reasons. The traditional 5 Cs of Credit (Capital, Condition, Capacity, Collateral, Character) are augmented by two more  — Courage and Compassion.
John Capers of Pop's Family Kitchen exemplifies courage. Shatawn and Nadia Brigham of GRNoir exemplify compassion.
Pop's Family Kitchen, Battle Creek
John Capers knows his way around a restaurant. He started working at his uncle's barbecue in Tennessee when he was 8.
"I had to work my way up by starting on chopping wood for the smoker," he remembers. He then learned to build fires, cut meat, mix rub, and, eventually, cook. Meanwhile, he was helping prepare weekly Sunday dinners for 25 family members alongside his mom, grannies, aunties, and other masters of the culinary arts. "It was tons of food," he says, laughing. "Like Thanksgiving dinner every week."
John Capers smiling while stirring his sauce.When it came time to open his restaurant, he hit the ground running. He invested his life savings in remodeling an old Domino's restaurant, relying on his landlord to get the rest of the building up to code.
The landlord didn't.
After only three months in business, with his savings depleted, Capers was forced to close the first iteration of Pop's Family Kitchen. 
"It broke us down," he says. "I had saved and saved, invested everything. We struggled for the next two to three years." The family felt they were teetering on the brink of homelessness.
In 2022, Capers was ready to dip his toes back into business, but he knew he had to do things differently. He started by talking to John Hart, development director for the City of Battle Creek's Small Business Development Office. 
From there, Capers enrolled in Northern Initiatives business planning classes and finished the 10-week program in June 2022. The classes are designed for entrepreneurs in the idea stage of forming a business.
"It builds confidence in people, teaches them what they should and shouldn't do, including common mistakes we can help people avoid," says Northern Initiatives Business Coach Justin Andert. "We want to make sure people are not only successful but, maybe, if they have an idea that won't work, they won't have to go through any hardships of attempting a business that isn't viable."
Cohort members learn about market research, pricing strategies, distribution and sales, and financial management. They finish the course with a pitch presentation — and most importantly, a business plan.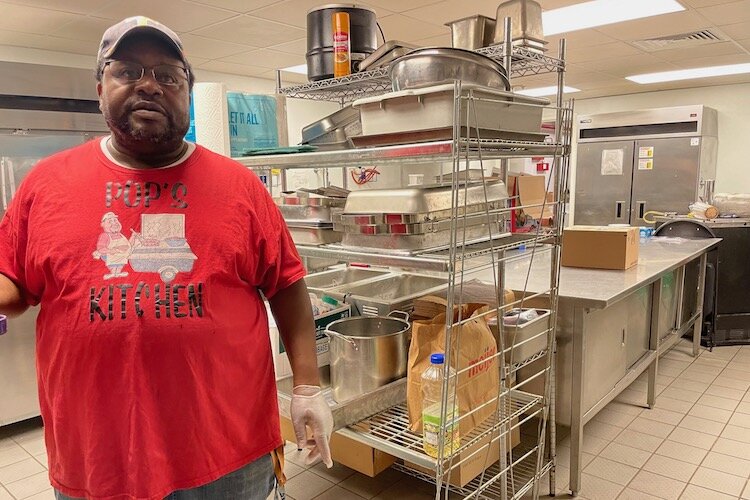 John Capers in the Kellogg Arena commercial kitchen."As they say," says Capers, "the waters are deeper than they look." He was astounded by what he learned, lessons he continually refers to now that he's getting his business up and running. "The profit sheet! I still go back and review that. And guess what? I'm never not making a profit now."
Andert worked with Capers to get a $5,000 startup grant that helped him buy jars, shrink wrap, a heat gun, kitchen supplies, and food inventory. "It's getting me ahead so I can jump ahead and stay ahead," Capers says of the grant.
Andert also helped Capers get into a commercial kitchen at the Kellogg Arena in Battle Creek and get started building a brand name for Pop's Family Kitchen – operating as a Ghost Kitchen to start. Capers is bottling BBQ sauce and blending rubs that he'll sell at events and on his website, as well as catering meals for tailgate picnics and other events. He's working with the MSU Product Center on the shelf stability of his product and has a science teacher helping him scale up recipes. Plus, he's the assistant varsity football coach for Comstock High School. His players from his earlier football teams call him Pop because he's seen as a father-like figure — which is where the name for his business was born.
And cooking is still a family endeavor, Capers says. He and his wife are always working on various aspects of the business, plus six of their kids who live in the area help, and bring their kids. 
"This isn't a job," Capers says. "It's what I was born to do."
Shatawn and Nadia Brigham, GRNoir, Grand Rapids
The owners of GRNoir Wine & Jazz say they were intentional about creating a diverse space when they opened in December 2020, even though it was in the middle of a pandemic lockdown.
Now they feel they've achieved a level of diversity that is unlike any other venue in Grand Rapids.
The Brighams had a longtime goal to run a business that kept with their values, including equitable and living wage pay, and working with diverse vendors. They wanted to create a venue for Black professionals to network and relax in a warm environment after work — and listen to wonderful music that is a cultural art form.
Nadia and Shawtawn Brigham, owners of GRNoir"What he's curated here is a space where everybody, bar none, everybody feels welcome," said Nadia Brigham, about her husband, Shatawn, in a 2022 interview with MLive. "I wanted to live in a place where you could have multiple races, ages, abilities, and lifestyles, where you can see that and not feel like it's abnormal."
GRNoir represents a breakthrough in the wine industry in many ways — Shatawn Brigham is Grand Rapids' first Black sommelier; few African Americans own wineries (less than 2%); and even fewer have wine bars in the United States.
The Brighams fondly remember a blissful night in New Orleans 20 years ago. "We were sitting at a wine bar, listening to jazz and thinking, 'Wouldn't it be great to have a place like this in Grand Rapids?'" Shatawn Brigham says.
The dream of opening their own wine and jazz bar grew by a giant leap when the couple entered on a whim and won $20,000 in the August 2019 Start Garden pitch contest. Even with that windfall and sizable savings of their own, they knew they needed additional capital for their startup. That's when they approached Northern Initiatives about financing. Nadia Brigham was familiar with the name, but not the mission — and was bowled over when she found kindred spirits, she says. "Not only did we get financial support but community support."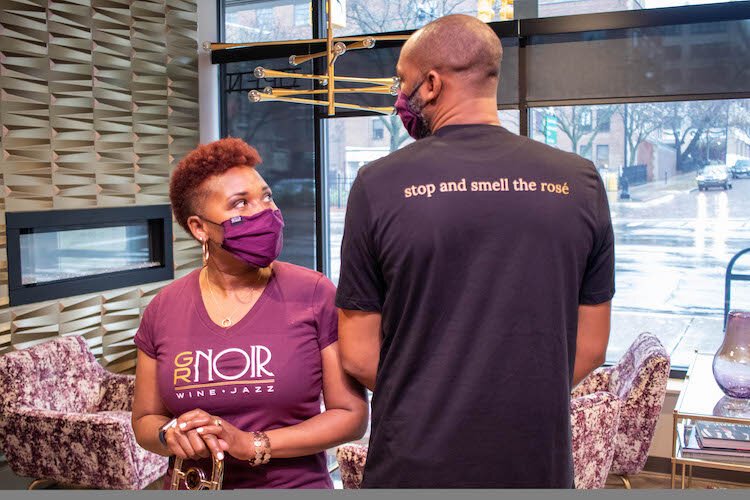 Nadia and Shatawn Brigham, owners of GRNoir, looking at each other.Northern Initiatives provides loans and business support to many businesses and startups owned by people of color to create jobs and help communities thrive. This support includes businesses in riskier industries, such as hospitality.
Northern Initiatives also helped GRNoir manage cash flow during COVID by providing a payment deferral option; GRNoir also received a deferral on rent. "If those two things hadn't happened, we would have really been struggling," Nadia Brigham says.
"For us and our belief, our ancestors [have] overcome greater odds than a pandemic," Shatawn Brigham told Fox 17 just before opening for the first indoor patrons. "While they were enslaved, they created jazz. There is no greater inspiration."