Carbon County winery making a splash with new float flights, featuring wine-infused ice cream | Eat, Sip, Shop
LEHIGHTON, Pa. – A popular winery is taking its creations to new heights in Carbon County.
Radical Wine Company, at 511 Mahoning Drive East in Mahoning Township, just outside Lehighton, earlier this month began offering float flights – wine-infused, soft-serve ice cream topped with your choice of wine or sangria.
Customers choose from two types of ice cream – vanilla infused with semi-dry white wine or vanilla infused with raspberry and peach wine
They then choose four different varieties of wine or sangria, with popular picks including Dark Magic (blackberry-flavored) sangria and Team Camryn (strawberry- and watermelon-flavored) wine. Flights are $12 each.
"We have around 10-12 different sweet wines that you can layer them with, and then we also have five different sangrias in house," Radical Wine Company co-owner Kate Borger said. "We actually have 19 wines, but we recommend certain ones to go with the ice cream. Even a dry red goes really well with it, surprisingly."
Radical Wine Company, established in 2014, has been offering wine-infused ice cream and flights of wine and sangria for several years, but the fusion of the two – creating custom float flights – are "the newest option," Borger said.
As of noon Sunday, the business' Facebook post announcing the float flights has garnered around 800 reactions and more than 500 comments.
"We've also been offering layered slushies, almost like a Rita's gelati, where our slushies are layered with the wine-infused ice cream, for a long time," Borger said. "But the float flights are our newest creation. They're really fun, and the community is loving them."
Brandon and Kate Borger started making wine for themselves and family members before deciding to share their creations with the general public in 2014.
The pair labels Radical an "urban style winey," as they source ingredients from vineyards in premium regions around the world before crafting limited-batch wines at their Lehighton-area location.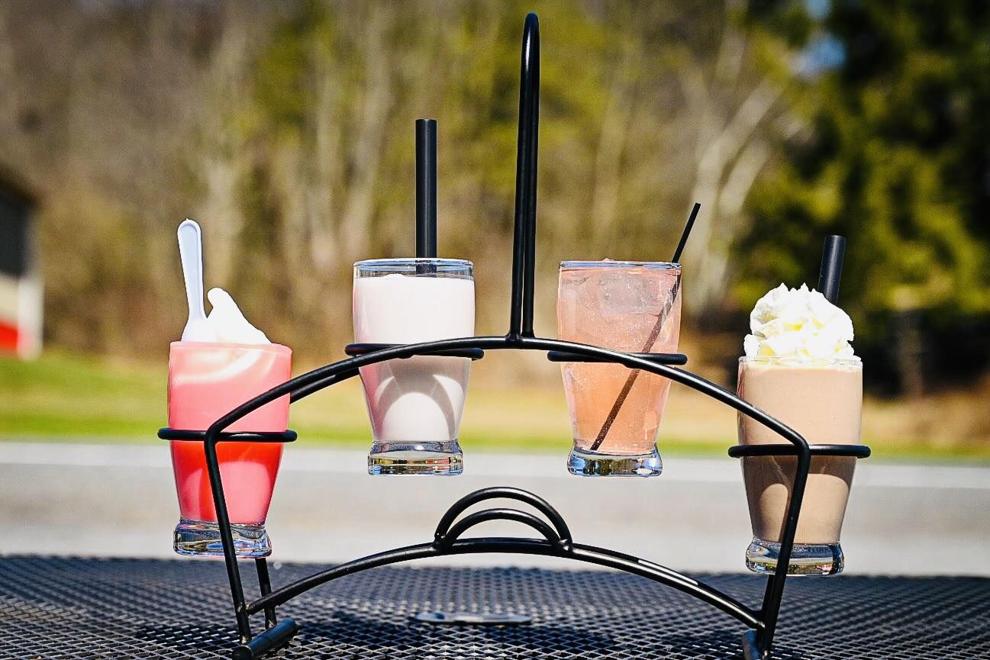 Other wine selections include Monkey Boy (sweet red wine with notes of red berries and black cherry), Fruity Pibbles (wildberry notes of blueberry and blackberry and ending with bursts of strawberry), Sunset (sweet and citrusy sangria-style, featuring blood orange and subtle undertones of apple and pear) and Crisp White (Washington Sauvignon Blanc, featuring notes of apricot, citrus and apple with a dry crisp finish).
Radical, which also features Pennsylvania beer and spirits, offers indoor and outdoor seating and regularly welcomes food trucks and live music acts.
Customers visiting the winery on Father's Day, June 18, will enjoy music by Steve Brosky Duo and food from Queen V Wraps.
Winery hours are noon to 6 p.m. Thursdays, noon to 8 p.m. Fridays, noon to 6 p.m. Saturdays and noon to 4 p.m. Sundays.
For the latest Radical Wine Company news, follow the business' pages on Facebook and Instagram. Info: radicalwineco.com.