10+ Best Bottles Of Prosecco To Drink In 2020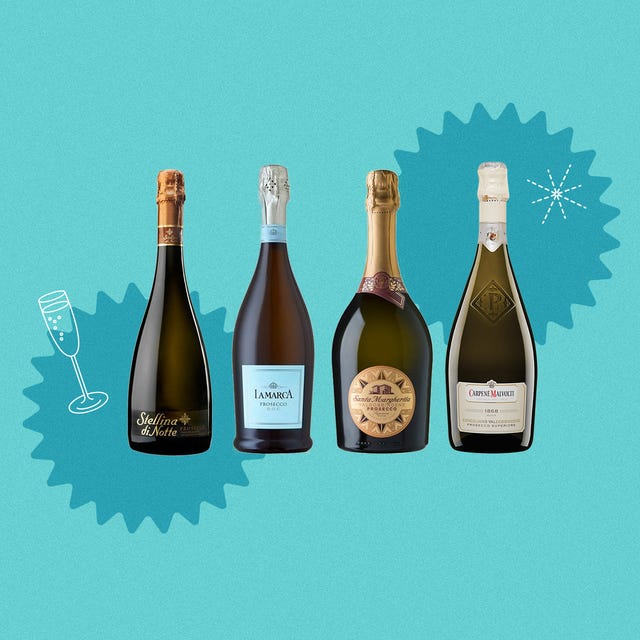 Alyssa Gray
It seems like all the best food and drink to come out of Italy starts with "p"—pizza, pasta, prosciutto, Parmesan, Prosecco. That last one is Italy's most popular version of bubbly, sparkling wine.
Prosecco is often compared to Champagne, which is considered to be the benchmark of sparkling wine. So what differentiates them? Prosecco is produced in the Prosecco region of Italy, while Champagne is from Champagne, France. Groundbreaking, huh?
Here are some less evident distinctions: Proseccco is made using primarily Glera grapes in the Charmat, or tank method, which involves a secondary fermentation in stainless steel autoclaves. Champagne production is more involved and takes more time, thus commanding a higher price point. Champagne permits the use of Chardonnay, Pinot Noir, and Pinot Meunier grapes. Production requires a secondary fermentation in the bottle, known as the Methode Traditional. The difference in production results in a different bubble experience. Champagne is bottled at a minimum of 6 atmospheres of pressure, resulting in pinprick, consistent bubbles, while Prosecco can be made at as low as 1 atmosphere. This lower pressure makes for a more frothy bubble that dissipates more easily. If you're bored, imagine I'm describing this animatedly and with accompanying hand motions!
So what about the taste? Prosecco is a fruit-bomb. It can have notes of peach, apple, pear, melon, and cream, combined with intense floral aromas. Champagne tastes more of citrus, almond, and brioche.
Now that you're convinced that you're in need of a glass of Italian magic, here are some bottles to get you started. Pair it with any of those other the famous Italian "p"s—particularly, prosciutto and Parmigiano-Reggiano.
Advertisement – Continue Reading Below
1
Adami Garbèl Brut Prosecco
The 13 grams of residual sugar in this bottle place it in between the styles of brut and extra dry, making it a very versatile Prosecco— ideal as a casual sipper or celebratory toast. This light and crisp baby makes an ideal pairing with seafood antipasti.
2
La Marca Prosecco
La Marca
vivino.com
$12.90
I've seen it. You've seen it. This Tiffany-blue label is everywhere— but deservedly. Citrus and honeysuckle shine in this crisp, refreshing bubbly with subtle sweetness.
3
Giuliana Prosecco
Giuliana Rancic, the former E! host with the never-ending smile, teamed up with top winemakers to create her favorite celebratory wine. Your smile will be as bright as hers when you take a sip of this fruity, velvety Prosecco.
4
Cinzano Sparkling Wine Prosecco
Cinzano
reservebar.com
$18.00
The Cinzano family has over 260 years of expertise in the wine biz. I think it's safe to say they've perfected their craft. This historic bottle is lively in a flute, but works beautifully in an Aperol spritz if you're feeling jazzy.
5
Bocelli Prosecco
Yes—Bocelli, as in Andrea Bocelli, the one who Celine Dion has spoken of saying, "if God would have a singing voice, he must sound a lot like Andrea Bocelli." His family has been making wine for three generations. Must I state the obvious? You need to grab a bottle of Bocelli and sip it while listening to Bocelli.
6
Ruffino Prosecco
Ruffino
reservebar.com
$16.00
A quintessential bottle. Peaches and pears waft to the forefront of this delicate, clean bubbly. Reach for this guy when you're hankering for pizza and need something to sip with it.
7
Carpené Malvolti Prosecco Superiore Conegliano Valdobbiadene
Carpenè Malvolti
vivino.com
$19.99
This Prosecco gets a little more complex with tempting notes of tropical fruits mingling with the more typical orchard fruit ones. A touch of toasted brioche suggest a bit of richness in the glass.
8
Santa Margherita Prosecco Superiore
Santa Margherita
wine.com
$25.99
Santa Margherita Winery has been dedicated to creating Prosecco for decades. They have accomplished elegance and finesse in these bubbles with aromas of bright lemon.
9
Mionetto Prosecco Valdobbiadene Superiore
Mionetto
vivino.com
$20.99
One Vivino user, Brendan Gotch described this beauty writing, "Sweet like the song of the bluebird of spring, but not saccharine. Fruits comin out my ears in this sparkler. Elegante." And we truly couldn't beat that description.
10
Stellina di Notte Prosecco 2011
Stellina di Notte
reservebar.com
$18.00
The delicate bubbles of this wine lift fruity aromas of pear, melon, and lemon straight to the nose. A light body, sprinkle of sugar, and lovely hint of minerality make for a superb Prosecco at an affordable price.
11
Zonin Prosecco
This affordable bottle receives critical acclaim for its focused pear and passion fruit notes, balanced with a clean long finish. Pair this one with crab cakes, caprese salad, or chicken pesto.
This content is created and maintained by a third party, and imported onto this page to help users provide their email addresses. You may be able to find more information about this and similar content at piano.io
This commenting section is created and maintained by a third party, and imported onto this page. You may be able to find more information on their web site.
Advertisement – Continue Reading Below