Page A1 | Napa Valley Register E-Edition
Want to work the Napa grape harvest? Due to visa freeze, opportunities abound this year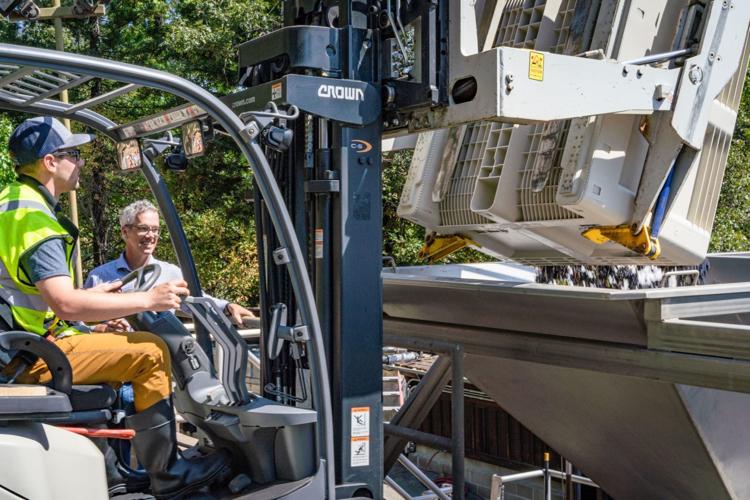 The COVID-19 pandemic's impact on international travel and the Trump administration's freeze on J-1 visas have disrupted a significant portion of the harvest intern workforce for Napa Valley's wineries.
Harvest in the North Bay begins as early as mid-August for sparkling wine producers; it stretches into late October and even November for red varieties, including the Cabernet Napa is known for internationally.
Globally, harvest interns play a crucial role in supporting wineries, according to Benessere Vineyards winemaker Matt Reid. Alongside year-round employees, they commonly work 12-hour days, six days a week. For many, it's a project of passion, done out of love for the job.
A number of interns have made harvest work their lifestyle, Reid said. They travel between the Northern and Southern hemispheres to participate in harvests year-round, working in South America or Australia during the Northern hemisphere's winters. 'Intern,' in the wine industry, does not necessarily denote a gangly college student: many are well-established professionals.
The pandemic had slashed available flights, closed borders and shuttered embassies. Reid was already concerned for a Spanish intern working Benessere's 2020 harvest, worried he'd somehow end up marooned in the U.S. at the end of the season. Reid had hoped, though, that intern would successfully arrive in Napa. Upon hearing the Trump administration had frozen J-1 visas, the kind most international harvest interns use, he groaned.
The Trump administration wrote in late June that it was "suspending entry" of foreigners who "present a risk to the U.S. labor market" in the wake of high unemployment caused by the pandemic.
"…Visa programs authorizing (non-immigrant) employment pose an unusual threat to the employment of American workers," the President wrote in his proclamation, citing high rates of unemployment among Americans ages 16-24.
So far, though, Reid has not had luck filling his open positions.
"We had two local interns lined up along with the Spanish one, and one of the locals dropped out last week without explanation. We're scrambling right now," Reid said.
A number of winemakers have found themselves similarly impacted by the loss of international hires. Artesa Vineyards & Winery winemaker Ana Diogo-Draper, once herself an international harvest intern in Napa, said the winery typically relies heavily on international interns.
International interns often adapt to harvest intern work better than do local workers entering the industry for the first time, Diogo-Draper said. They can also arrange temporary, roommate-based housing to cut costs, and are familiar with what constitutes "reasonable" pay for an intern. Pay scale does depend on experience, Diogo-Draper said, noting that applicants with no harvest experience have responded to Artesa's job posting asking for more money than the winery's year-round employees make.
Pablo Laguens, who has spent the last four harvests in Napa, was before the Trump administration's proclamation attempting to secure his own J-1 visa to work a harvest in Napa. Laguens, 31, spends his time during the year as a traveling winemaker in his native Argentina, but he said he never misses the chance to work a harvest in Napa. The pay is comparatively high, the work is interesting and so are his colleagues at Hyde de Villane Winery, where he was set to return for a second year.
Laguens, along with Hyde de Villaine's winemaker, had plans to experiment with different fermentations this year – and to celebrate the winery's 20th anniversary. Laguens left the Argentine winery he'd been working at previously in preparation for his departure to Napa.
"It feels really weird to still be here this time of year, knowing I won't be heading back to Napa—not preparing for harvest," Laguens said. He's now looking for full-time work in Argentina.
Having foreseen the difficulty international travel might pose, Diogo-Draper decided in early spring to concentrate her efforts this year on finding local help anyway. The winery is still struggling to fill its available positions, she said. Artesa has posted to popular job board websites like WineJobs.com and reached out to all of California's relevant colleges – even some out-of-state colleges – with no luck.
At this point, Diogo-Draper said, the winery is actively looking for individuals previously employed by the restaurant industry, the brewing industry – or anyone willing to roll up their sleeves and get to work, so long as they can remain committed to the job.
The Napa Valley Vintners this past week launched an online job board as part of a formal effort to recruit Napa-local and domestic harvest interns. So far, about 25 member wineries have posted, a spokesperson for the organization said.
Diogo-Draper, who herself posted a listing on the Vintners website, said she had hoped to see an influx of local workers interested in the wine industry. That has not happened yet, she said – there are apparently no barrages of domestic workers interested to fill the slots – but she's continuing to draw awareness to the jobs and may even appear on the radio to discuss the issue in hopes more locals will take note.
Listings describe various responsibilities commonly assigned to interns: cleaning and preparing the winery for harvest, operating forklifts, lifting loads of up to 50 pounds and doing pump overs and punch downs (a hands-on part of the winemaking process that ensures even fermentation). Listed pay for positions ranges from $15 to $20 per hour.
Harvest interns typically begin work in Napa Valley at the beginning of August, according to Sean Taylor, a travelling winemaker who runs and owns the job-listing website WineVoyage.com. He recently convened an "emergency zoom meeting" with some of the client wineries who use his site, including some in Napa Valley, hoping to better understand how he could help recruit workers for harvest. Taylor says he's been vetting applicants – he's looking for former restaurant or brewing industry workers — but is, like Diogo-Draper, open to anyone looking to commit to the work.
"This year more than any other year is the best possible time to get a harvest job with no prior experience," he added.
Though he couldn't quantify the number of industry jobs filled by international interns, Taylor said the number is "in the thousands." He's still hopeful a response to his clients' needs will arise locally, but added the industry remains hard hit nonetheless.
"One of the draws to being in the wine industry is the international community," he said. "Everyone in the wine industry knew this was going to be a big deal, and that there would be serious issues. A lot of us are disappointed that this happened."
A list of open positions can be found at napavintners.com/wineries/harvest-interns-needed.asp and on WineVoyage.org.
Watch Now: the dangers of dry thunderstorms during wildfire season